https://www.ctpost.com/weather/article/Little-chance-of-a-White-Christmas-in-CT-this-year-14926883.php
Why CT won't have an 'official' White Christmas this year
Photo: Brian A. Pounds, Hearst Connecticut Media
With temperatures rising into the upper 40s and low 50s Monday, dreams of a White Christmas in Connecticut are melting away.
It's likely that any remaining snow and ice for most of the state will be gone by Christmas morning.
While there may be some pockets of snow in northwestern Connecticut, the National Weather Service defines a white Christmas as having one inch or more of snow on the ground at 7 a.m. Christmas morning.
Definitions of a White Christmas vary, according to the grammarist.com:
"In its most literal use, the term white Christmas simply means a weather event in which it either snows on Christmas Day, or there is enough snow from a previous snowfall to cover the ground on Christmas Day.
In the United Kingdom, the holiday is officially considered a white Christmas if there is snow falling sometime during the 24 hours of Christmas Day, whether or not the snow melts upon impact.
"The idea of a white Christmas goes back at least to the 1840s, but the term took on the role of an idiom when it was popularized during the dark days World War II with a song of the same name written for the holiday season by songwriter Irving Berlin," according to Grammarist.
"The lyrics of the song White Christmas are a nostalgic recall of homey traditions at Christmas time, and the term white Christmas came to mean being home and in indulging in family traditions at Christmas."
The National Weather Service sees no storms coming our way that could bring snow for a White Christmas in Connecticut this year.
The last time there was a White Christmas in Connecticut was in 2017.
The timing of that snow was like a Christmas movie with light rain turning into snowflakes just after midnight. Snow continued through much of the night and became heavy at times in the wee hours of Christmas Day as the coastal low strengthened. When Christmas Day dawned, several inches of snow was on the ground including 5 inches in Torrington, 4 in Litchfield, 3.5 in Oxford and about an inch along the shoreline.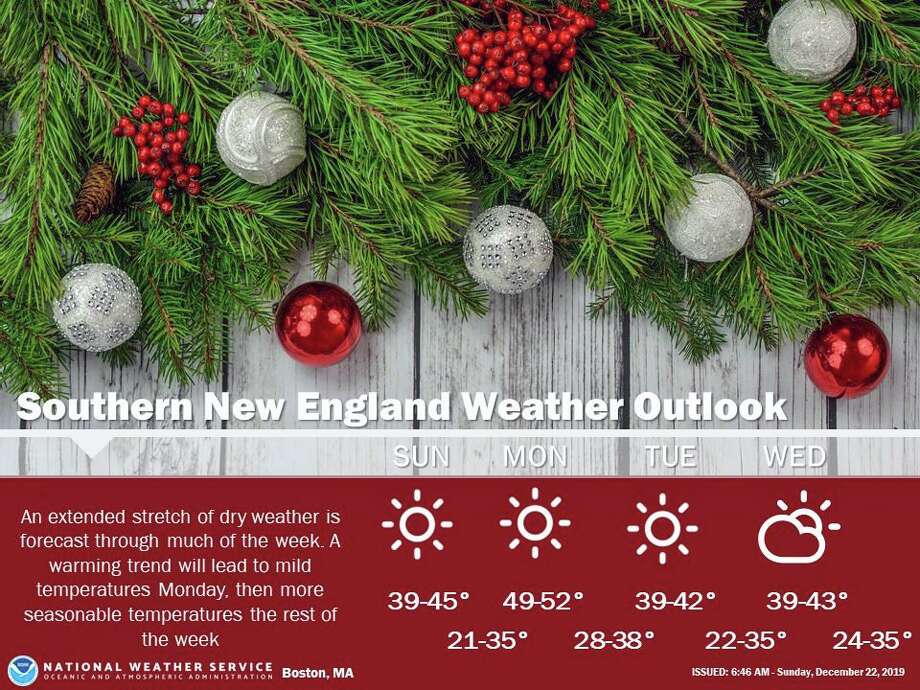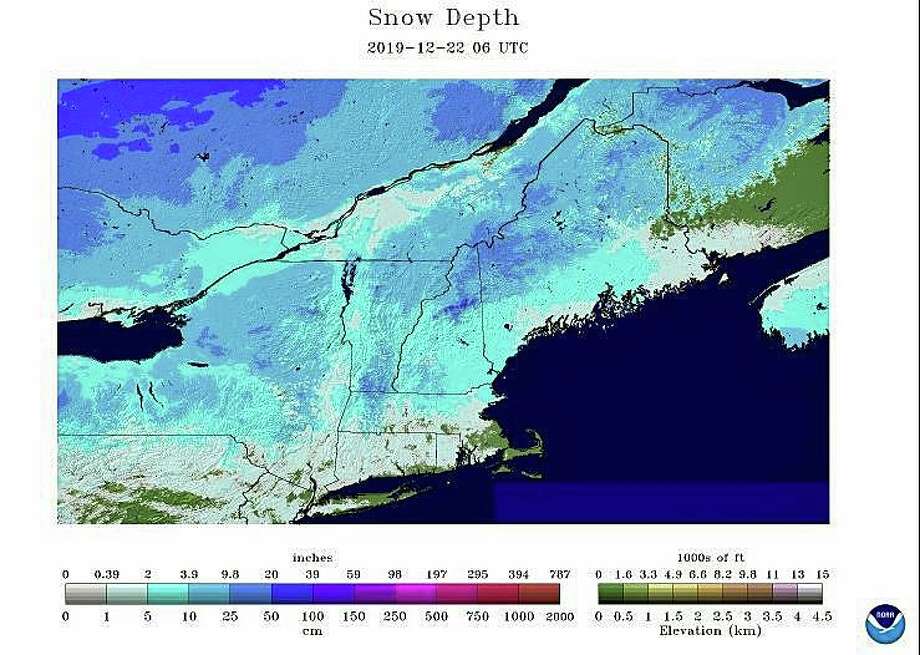 Looking at the historical weather data gives us a better idea of our White Christmas chances.
At 72 percent, Norfolk in Litchfield County has probability of a White Christmas based on historical weather records.
Danbury has a 35 percent probability and along the shoreline, it's 21 percent.
Chances of a white Christmas looked better earlier this month.
Connecticut has had an early and above average snowfall this month. Sikorsky Memorial Airport in Stratford had its first inch of snowfall on Dec. 2 - sixteen days earlier than average, according to the Northeast Regional Climate Center. Sikorsky has had 5.5 inches of snow this month - 3.2 inches more than average.
Bridgeport, Hartford, Norfolk and Danbury have all seen more snowfall than they typically see in an entire December.
Bradley International Airport in Windsor Locks has had 21.1 inches of snow this month; 16.2 inches above average. Norfork in Litchfield County has has 19.6 inches of snow this month, more than 8 inches above average.
Much of that snow was wiped out by a drenching rainstorm on Nov. 13-14 with up to 2 inches of rain fell in Connecticut. Temperatures peaking at 54 degrees on Saturday, Dec. 14 further eroded Connecticut's snowpack.
For many people, Monday's mild temperatures will help melt ice on driveways and sidewalks that have remained for days. Last week's ice and snow quickly froze as temperatures dipped. From last Monday to Saturday, many areas in Connecticut has temperatures below freezing all day long.
Overall, Connecticut's December temperatures have averaged between 2 degrees to nearly 4 degrees below normal.
The forecast
Today: Sunny, with a high near 48. Wind chill values between 30 and 40 early. Southwest wind 3 to 8 mph.
Tonight: Mostly clear, with a low around 29. Southwest wind around 7 mph becoming northwest after midnight.
Tuesday: Sunny, with a high near 41. Wind chill values between 25 and 35. North wind 6 to 8 mph.
Tuesday Night: Mostly clear, with a low around 17. North wind around 6 mph.
Christmas Day: Sunny, with a high near 41. Light and variable wind becoming northeast around 5 mph.