Blue says she was surprised by the judge's denial, since a Multnomah County Circuit Court judge in June allowed Jamie Shupe to legally change to a non-binary designation.
The change became inevitable after an Oregon judge's decision last June to allow then 52-year-old Jamie Shupe the right to legally identify as non-binary, which was thought to be a first in the United States, ...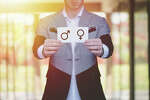 But the idea certainly is radical — as recently attested by Jamie Shupe, who gained fame in 2017 as the first person in the nation legally identified as "non-binary" in gender.