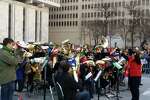 TUBA CHRISTMAS Ellen Delucia, of Catskill, N.Y., center, wears a wig made of holly, as she joins hundreds of tuba players in the 28th annual "Tuba Christmas" holiday concert, Sunday, Dec. 9, 2001 at Rockefeller Center in New York.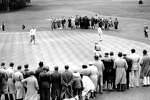 The Fairfield Cup Teams include: Brooklawn Country Club -- Jim Fatsi, head golf professional; Mike Hooper, men's champion runner-up; Ellen Delucia, women's champion, and Peter Donnelly, men's senior champion.
— Neighbors Sue Sampson and Ellen DeLucia met pushing baby carriages down their road, a meeting that spawned a close friendship and a 15-year-old business designing window treatment patterns for the McCall ...