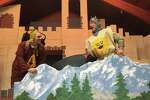 Produced by the Brewster Theater Co., it features everything from cancan dancers and catapulting cows to a killer rabbit. "It's very funny, has a lot of dancing and big production numbers, plus lots of slapstick ...
NewsBeat Linda Tuccio-Koonz "Naughty or Nice," an evening of cabaret, will be presented in Brewster this weekend,  thanks to The Brewster Theater Company and the Town of Southeast Cultural Arts Coalition. ...
. • Wayne and Judy Brewster, who celebrated their 50th wedding anniversary on Aug. 8. • David and Rosemary Loomis, who celebrated their 40th wedding anniversary on Aug. 9.