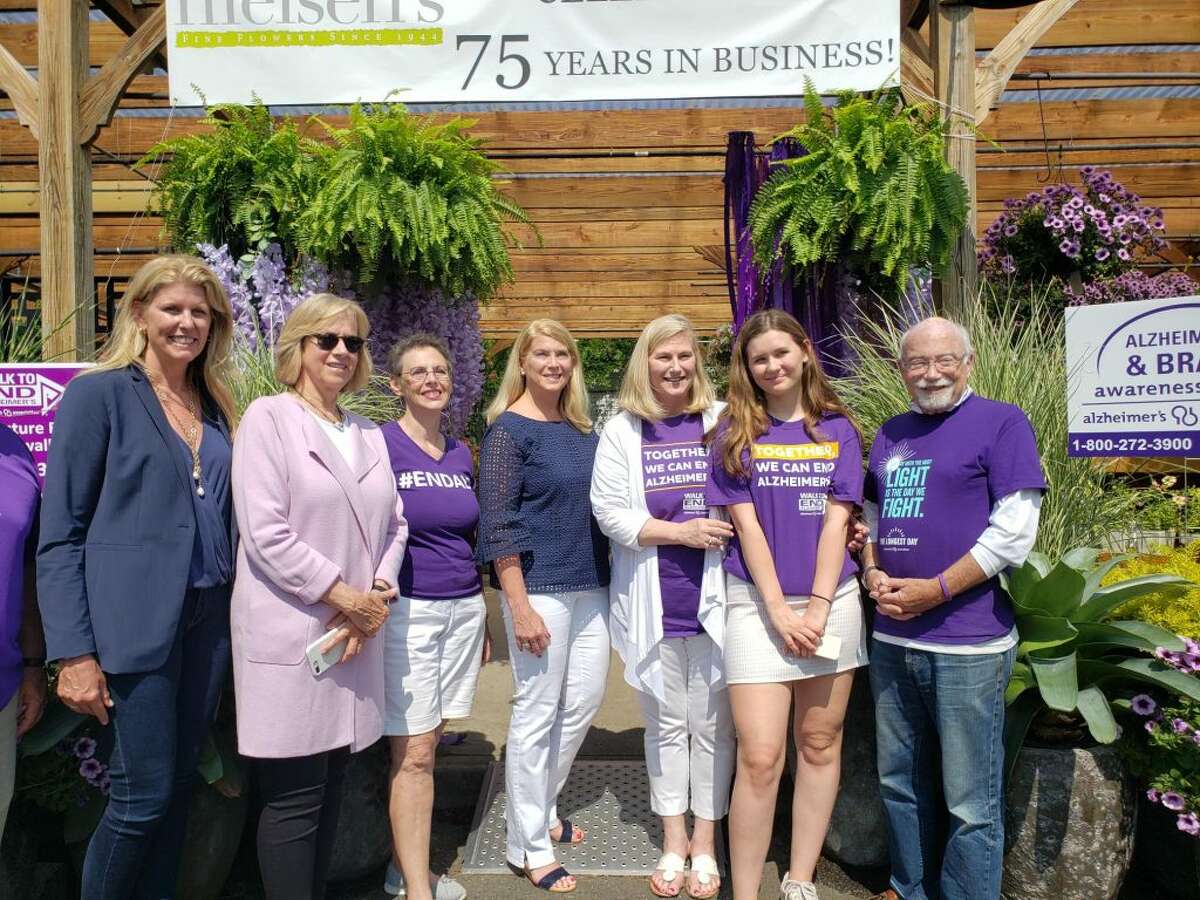 About five years ago, Susan Helstein of Darien got diagnosed with Alzheimer's disease. There was no one else with Alzheimer's in her family, according to her husband Dick Helstein, "so it was a total surprise to us to have it happen. We were just floored by it,"
Since his wife's diagnosis, Helstein has made it his mission to bring more public awareness to the disease. On Saturday morning, June 22, he was one of a group of more than a dozen volunteers wearing purple shirts at the ribbon cutting ceremony for Darien's Paint the Town Purple event, held at Neilsen's Florist on the Post Road.
June is Alzheimer's & Brain Awareness Month, whose purpose is to bring awareness and attention to this disease, which has no cure.
More than 30 businesses and organizations in town participated in the event. Stations were set up throughout town with information tables, purple displays, purple drinks and more.
At the ribbon cutting, Pamela Payne, chairman of the event, shared how Alzheimer's disease has affected her family. Her father, Dr. Stephen D. Messner, was head of finance and director of the Center for Real Estate at the University of Connecticut, as well as acting dean.
About five years ago, when he was 77, Payne started receiving distressed calls from "my Mom in Florida, saying that 'Dad just wasn't himself.' He was doing and saying things that were uncharacteristic," she said. "It turned out that he had a stroke in his brain."
For the next four years, Payne's family watched as her father deteriorated. He was placed in a "memory care community with the support and care he needed, and it completely turned things around for him. He was able to spend the last few years fully engaged until the very end," she said.
Payne said her experience with her father made her realize that "through my pain came my purpose, and that raising awareness and funding for a cure is the very best way to honor my father."
To raise money toward ending Alzheimer's, Payne encouraged everyone to join the walk team "Darien Paints the Town Purple" and participate in the Fairfield County Walk to End Alzheimer's at Calf Pasture Beach in Norwalk on Oct. 13.
At the ribbon cutting ceremony, State Rep. Terrie Wood, who represents Darien and Rowayton, gave some recent statistics about Alzheimer's.
It's the sixth leading cause of death in the U.S. Between 2000 and 2017, deaths from Alzheimer's and dementia increased 145 percent. One in three seniors dies with Alzheimer's or dementia.
She added that "Only 16 percent of seniors receive cognitive assessments, and that's what we can absolutely work on changing."
Wood said she has been working on a Senate bill that is now awaiting the governor's signature. The bill "would require continuing education requirements for physicians and nurse practitioners for dementia and Alzheimer's to keep up to speed on the latest practices, the latest developments, and early identification and early remediation," she said.