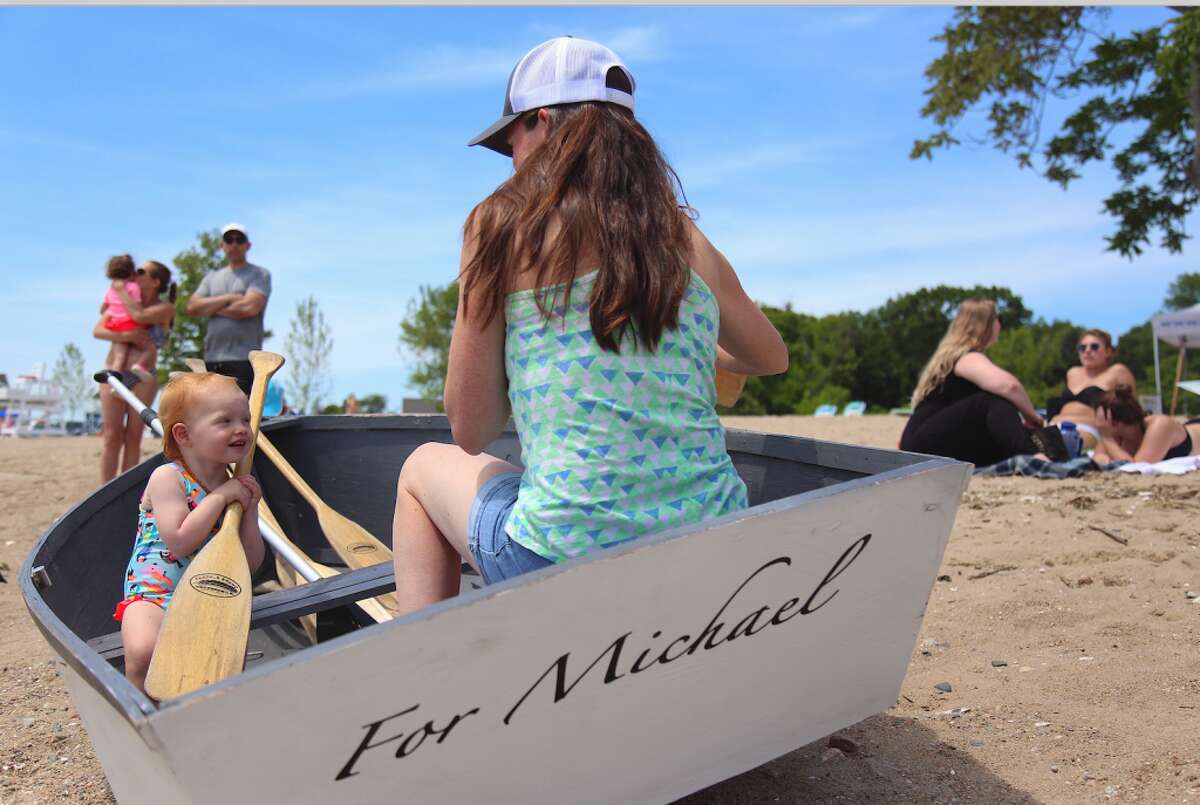 This past Saturday was the third annual Showdown on the Sound at Weed Beach. It's a day of build your own boat races, live music, food trucks, a silent auction, and more. But the real reason behind the event is honoring the memory of Michael Taylor, a 26-year-old Darien resident, who passed away of an overdose in 2016. His parents, Annmarie and Frank, his sister, Kate, and Michael's good friends from DHS and Villanova, came up with this event to remember Michael and to raise funds for Shatterproof, a national organization committed to ending the devastation addiction causes families.
https://www.darientimes.com/2019/06/11/photos-showdown-on-the-sound-held-saturday-to-benefit-shatterproof/
Showdown on the Sound has become a welcome addition to yearly events in our community, and the greatest thing about it is how it is chipping away at the ugly stigma that comes with substance use disorder. Addiction is often not discussed and kept in the dark, but this event brings it out into the light. We honor those who have been lost to addiction and celebrate the many who are living full lives in recovery. Showdown on the Sound (formally called For Michael) has become the premiere recovery event in our area. As a longtime, second generation Darien resident, who is in recovery and who works for Shatterproof, I was thrilled to be a team captain of a boat this year, and I cannot express how much this event means to me personally.
The build your own boat competition had 20 teams competing in five heats to win the top billing. Each team fundraised, and the event raised close to $200k. From Post 53 to local businesses to Lighthouse Sober Living to Michael's friends, so many in the local community came out and formed teams. My friends and I decided to form a team after watching last year's event and feeling severe FOMO (fear of missing out). We had a blast naming our team (Ladies Who Launch), coming up with a blueprint for building a boat when none of us had any experience, building the boat, fundraising, and picking out our boat's décor (covered in Lilly Pulitzer inspired duct tape) and our collective costumes (Lilly Pulitzer and pearls) to wear. It meant so much to me to have my dear friends do this with me in support of the collective mission of the event and in support of the organization that I work for and love dearly.
It was a day that I will not soon forget—the joy "was palpable. Addiction is a disease that robs so many of their joy, is whispered about in hushed tones, and is not openly discussed. So, to see signs on lawns all over town promoting the event and the hundreds of people that showed up and gave so generously, gives me hope that the needle on stigma is moving in our community.
The Jones family so bravely spoke out about their son William's death from an overdose on Christmas day just a few weeks ago in this newspaper and the Taylor family has been bravely sharing their story since 2016. these families are taking a powerful stance in our often guarded, don't air your dirty laundry community. I feel the tide is changing and more people are sharing their struggles and victories over alcohol and drugs.
https://www.darientimes.com/2019/05/10/a-little-bit-of-mercy-a-darien-familys-loss-to-addiction/
I believe the most important ingredient in a successful recovery is community and I could not be more grateful to the role the Darien community has played in my recovery.
I moved back here in 2010 and got sober in 2011. I have relied heavily on the members of this community—from my church, Noroton Presbyterian, to my recovery community in town, to my amazing parents and many friends—I feel so supported and loved. For me, Showdown on the Sound is a beacon of hope for the many struggling in Darien and the many successfully on the other side enjoying beautiful, purpose-filled lives in recovery.
Thank you, Darien, for supporting the Taylor family and Shatterproof so generously and with your hearts. Thank you for bringing addiction out of the darkness and into the light. I am extra-grateful to be a Darien resident today.
Holly Jespersen is the senior communications director for Shatterproof. For more information visit shatterproof.org.