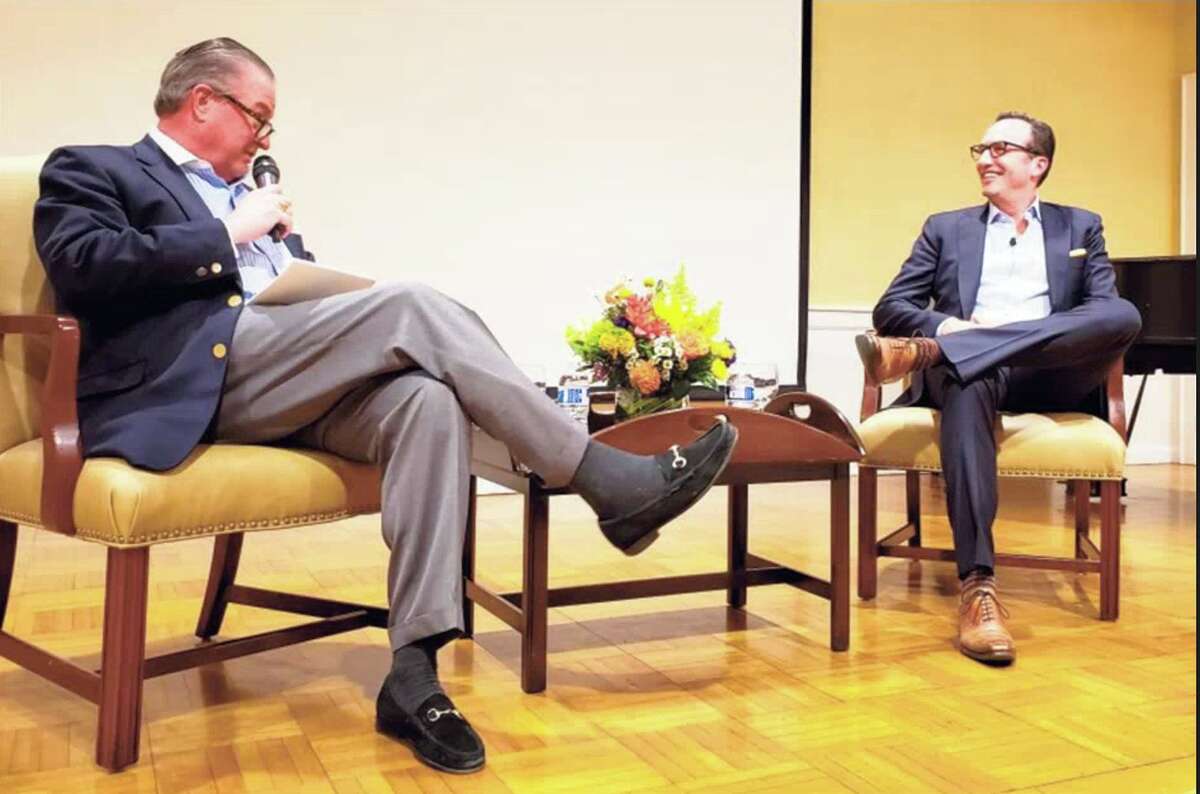 In front of a packed audience of more than 100 people at the Darien Community Association on March 26, Charlie Collier shared insights into his new position as chief executive officer of Fox Entertainment, as well as many other aspects about his job and industry.
Collier was the featured speaker at the DCA's Neighbor Speaker Series, which spotlights Darien residents who are described as respected leaders in their fields.
Tickets to the event, which included a wine reception, were $30 for DCA members and $45 for the public. The event was part of a fundraiser to benefit the DCA, a privately-funded nonprofit organization that provides activities and philanthropy.
Jeff Hamill, executive vice president of Hearst Magazines, asked Collier questions at the event.
Previously AMC Networks' president and general manager, Collier developed series such as "Mad Men," "Breaking Bad," "The Walking Dead," and "Better Call Saul." In his new role, he is responsible for driving the new company's creative vision, supervising content development, creating new strategies for growth, and overseeing its business operations.
Job offer
One day, while Collier was in his former office at AMC getting ready for work, his cell phone rang and he casually picked it up. The voice on the other end of the line said, "Charlie boy, it's Rupert Murdoch."
Collier said that at first, he thought it was a joke. "I wanted to say, 'Yeah...,'" which produced laughter from the audience.
When Murdoch asked Collier if he would like to run a startup company, "That was a goosebump moment," Collier said.
Cable TV
Collier spoke about how far cable TV has come.
"No one ever thought cable would have original programming like it ended up having, or having hits," he said.
"'The Walking Dead' was the number one show in television. It was bigger than broadcast, and you think, well, that never should have happened," he added, which produced laughter from the audience.
When Collier left local television for cable in the 1990s, "the general sales manager of one of my stations said, 'Good luck on the other side of the decimal point.'"
"But that was what it was," Collier said. "Television and broadcast worked and cable was a nice little thing — and everything evolved."
Having patience
Collier said it's an "attention economy."
"Everyone wants great storytelling. They want mystery. They want suspense," he said. "What changes your orientation is trying to engage an audience because everyone's attention is so fragmented."
If one believes in a project, Collier said, it's essential to have patience. "Not just to view it but then to let it breathe is a very hard thing in an economy and in a culture where attention spans are so short. So it's tough."
Finding good people
Collier said his job is to "nurture creative."
"I'd love for Fox to become a place where people bring their passion projects," he said, adding he likes "finding people who can do the things you can't do and try to nurture them."
What he loves about artists, he said, is "they see a world that you don't see."
"You're not trying to put them in a box. You're trying to find a way to get the great stories out of them," Collier said.

Collier said that talent is everything. "Good writing is hard to find and it was hard to find 10 years ago and it will be harder to find 20 years from now, so it's a great day to be a really talented writer."