https://www.ctpost.com/living/article/Danbury-artist-Erin-McAtee-moves-beyond-12994126.php
Danbury artist Erin McAtee moves beyond 'beauty' in her work
Photo: Erin McAtee / Contributed Photo
The beautiful and the grotesque are joined together in the art of Erin McAtee.
McAtee looks past the ideas of "pretty" and "ugly" to try to get to the essence of the people she sketches and paints.
"What I'm interested in is what makes a human being unique," McAtee says of the art that was recently celebrated in a show at Danbury's Trailer Box Project.
"I've grown to appreciate all of these different aspects of humanity," the artist adds when discussing how she finds subject matter wherever she goes. "To me, it's very interesting to be in a diner (observing) a big semi truck driver eating a burger at the counter."
McAtee believes she expands her own humanity as well as her art with her incessant sketching on the road. The spiritual aspects of the work also connect with her role as campus missionary at the Catholic Center at Western Connecticut State University in Danbury.
"Beauty can come from the most unexpected places — the quirks and the vulnerability you see in people. There's value and dignity in every person you encounter. A stranger in an airport or a student at WestConn."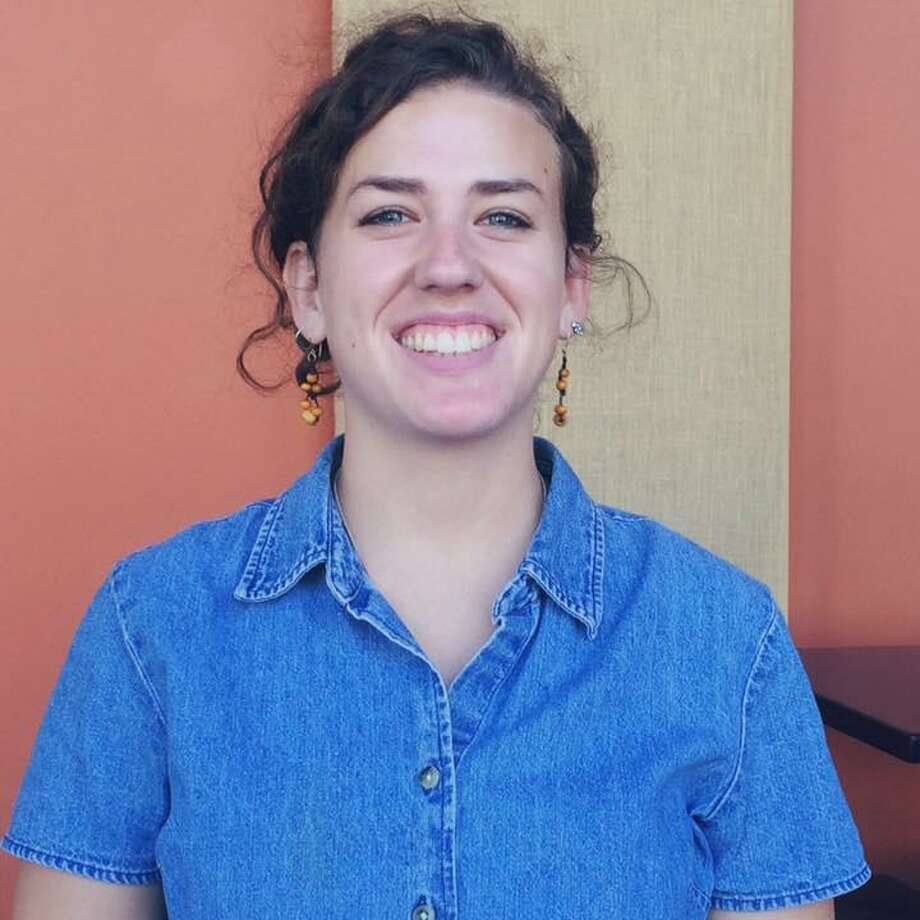 Art is almost as natural to McAtee as breathing, so she wouldn't think of going anywhere without a sketch pad.
The artist has been drawing the people around her since she was a child. "I remember bringing drawings of my dad home from pre-school," she recalls, adding that the encouragement she received from high school and college teachers kept her spirits high.
"I'm always learning how to see things," she emphasizes. "In ways I wouldn't if I weren't drawing...What I'm trying to do is go deeper into the ordinary."
Although many of us are taking more pictures than ever — thanks to the cameras in our smartphones — the kind of observation that is at the root of McAtee's work can't be captured in a photograph that is shot on the run.
"I think when I stop to sketch someone in front of me I see that person in more dimensions than a camera (does)," McAtee says. "When you look at the work of great artists you see deeper into humanity."
The artist has found that she can express her spirituality in her work but in a way that is open to various interpretations.
"I think words can limit you sometimes," McAtee says of verbal expressions of belief. "Good art reaches out and grabs the viewer. (My challenge) is how can I draw a viewer in to realize deeper truths. As a Catholic artist I'm always trying to think, What does God want me to bring to the world? How is God trying to use me?"
The artist can find inspiration in prayer and meditating on a passage from the Bible: "How can I apply these things to my life right now? How can I visually depict (spirituality) in a way that makes sense?"
As convenient as sketching might be, McAtee is also fascinated by the special challenges of making prints from her drawings.
"It's known as a democratic art form because you can make multiple original pieces of work and sell them for a lower price," she says.
McAtee relishes the mysterious nature of print making — the surprises that are inherent in the technical process. "(The piece) can be transformed in beautiful, unexpected ways...you can see more delicate drawing elements come out of an etching."
"There's also something my teacher once called 'print shock,'" the artist says, laughing, discussing the way a print can take on a life of its own that the creator never envisioned. You have to be careful about being in a rush to change the woodcut you used for the print. "You have to sit with it and not make any rash decisions."
"The finished product is ultimately God's creation," McAtee adds. "A mix of our decisions and God's grace."
Artists always have to remember that a piece of work will have no life if it doesn't connect with viewers.
"(Something) doesn't become art unless a beholder has a reaction to it. It's a form of language that you complete," McAtee says of the varied responses of gallery or museum visitors. "If you don't get a reaction you are probably not doing your job very well. The beholder definitely finishes a piece of art."
jmeyers@hearstmediact.com; Twitter: @joesview