https://www.ctpost.com/business/article/Steering-wheel-meant-to-fight-drunken-driving-13220457.php
Steering wheel meant to fight drunken driving
Photo: Jordan Grice / Hearst Connecticut Media
Ansonia resident Lakesha Stines wants to stymie would-be drunken drivers with her Sober Touch Sensoring invention.
It's been four years in the making, but Stines is looking to take the next step after earning the nod as Female Black Entrepreneur of the Year title by Baltimore-based publication The State Versus Us magazine.
"The world needs this because there are too many lives that are getting snatched because people want to sit up here and make the wrong decision to drink and drive," she said.
According to reports from the Centers for Disease Control and Prevention, 28 percent of traffic-related deaths involved drivers under the influence of alcohol in 2016, recording more than 10,000 people killed annually.
Sober Touch is a specialized steering wheel with sensors built in that can read a driver's alcohol levels through their palm sweat. The sensor is meant to detect whether a person is over the legal limit of alcohol.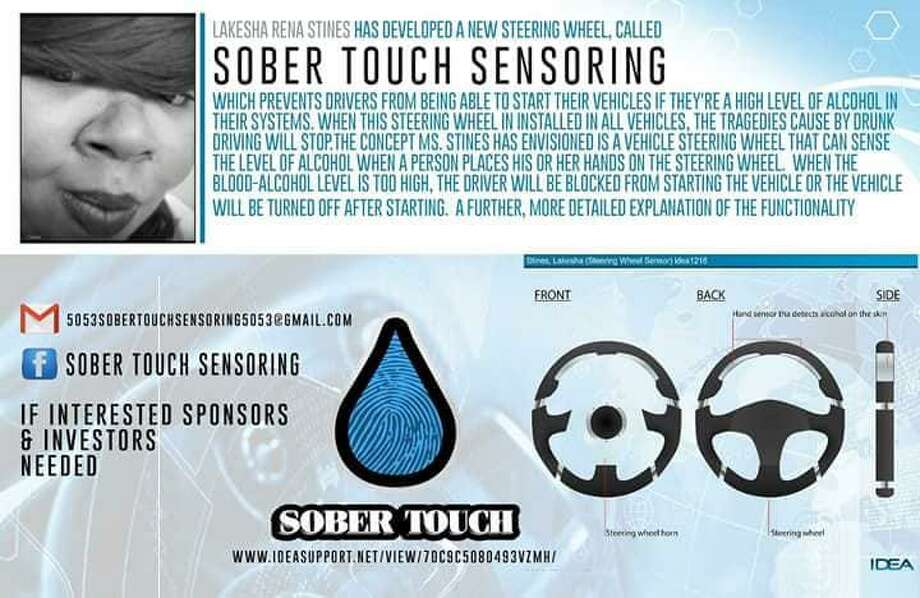 Photo: Contributed Photo / Contributed Photo
Stines said the sensor would keep the driver from starting their car up until they sober up, performing another reading every time they place their hands at the wheel.
"There is nothing wrong with drinking and there is nothing wrong with driving, but when you put those two things together that spells nothing but disaster," she said.
That's a hard truth she knows personally.
At the age of 9, Stines said a family friend, who she referred to as a second mother to her, was killed in Virginia by a drunken driver. Then, she said, another friend's family was also killed by a drunken driver four years ago, which ultimately sparked her inspiration for Sober Touch.
"To talk to him and hear the pain in his voice, it really tore me up, and when I went to bed that night, it bothered me so bad, I dreamt this invention," she said. "I jumped up out of my sleep and wrote it down."
She'd begun working on the designs for the Sober Touch prototype months later with the help of
Florida-based firm Ideal Design Studios.
The Ansonia resident has come a long way since the idea for the sensor system was first conceived, recently obtaining her patents for the product along with having working prototypes designed, by engineer Bill MacLaughlin, who said he's designed six models to meet a range of features Stines is looking to bring to the product.
Stines said she would like to see her steering wheel integrated as an add-on feature and, eventually, become a stock feature for different car brands.
Jordan.grice
@hearstmediact.com